Macro Outlook

General Economic Insights
Going Platinum
The UK's 70 years of change.
The Financial Times headline read: "Retail Sales at low levels. Public reluctant to buy. Stores face rising costs."
But this wasn't the response to weak prints from February and March 2022, as rising inflation started to weigh on spending. This was the top story from the front page on 6 February 1952, the day that the then Princess Elizabeth became monarch.
As her subjects celebrate Queen Elizabeth's 70th year on the throne with a long weekend of festivities, it seems some things haven't changed. Cautious consumers, rising costs, the falling purchasing power of the pound and even the long hours worked by bankers feature in that February 1952 edition of the newspaper.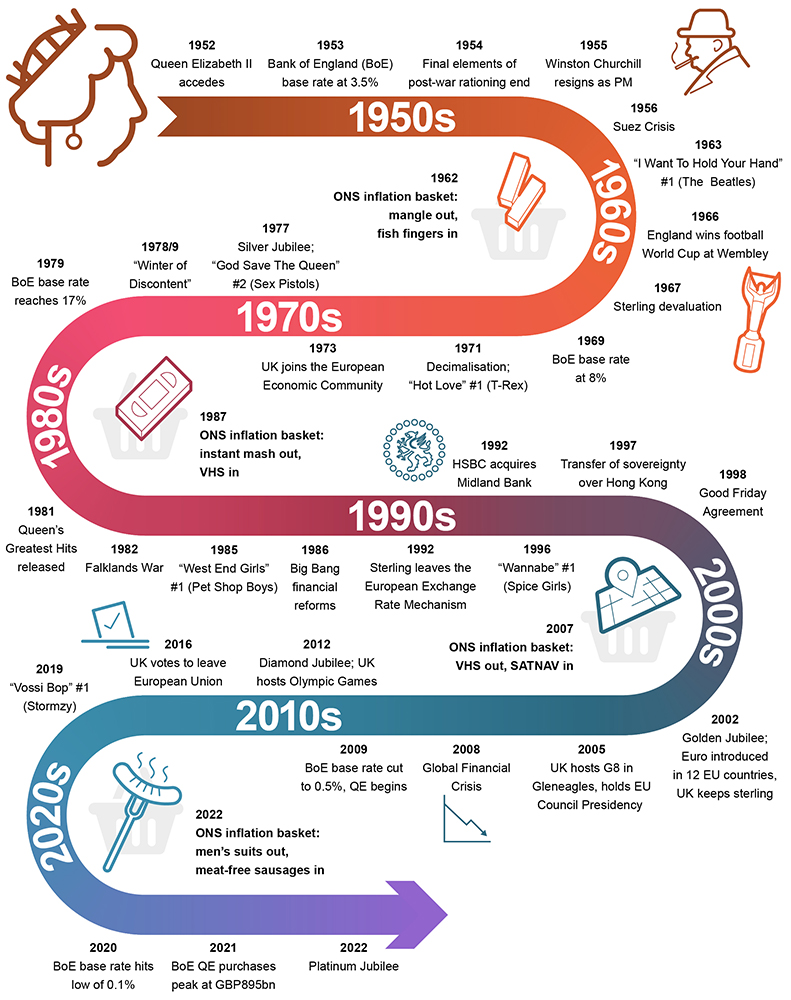 Platinum Jubilee Infographic
But many other things have changed – from the structure of British industry to the drinks with which people will be charging their glasses. We have looked briefly at the highs and lows of the 70-year journey, including:
Seven decades of economic growth
The rise and fall (and rise?) of inflation
Trade patterns from Empire to Europe to EU-exit
70 years of FX, from Bretton Woods to Brexit
A 10,000% rise in UK equities and evolving index composition
Changes in leisure patterns: from radio licences to streaming
Innovations in gilts and a 40-year bull market for bonds
How sterling credit became "not UK" credit
The changing shape of the labour market
A quadrupling in real-term house prices over the Queen's reign
Please check out our free-to-view report for more detail on how the UK economy and markets have – and in some cases, haven't – changed.
Whether your home is a castle or a cottage, with a corgi or a cat, we wish everyone celebrating a happy, healthy and prosperous Jubilee. And cross our fingers for that most rare and precious UK phenomenon: good weather on a bank holiday.
Want to find out more? Email your questions to AskResearch@hsbc.com
Global Research
HSBC Global Research provides information, insights and thought-provoking ideas.