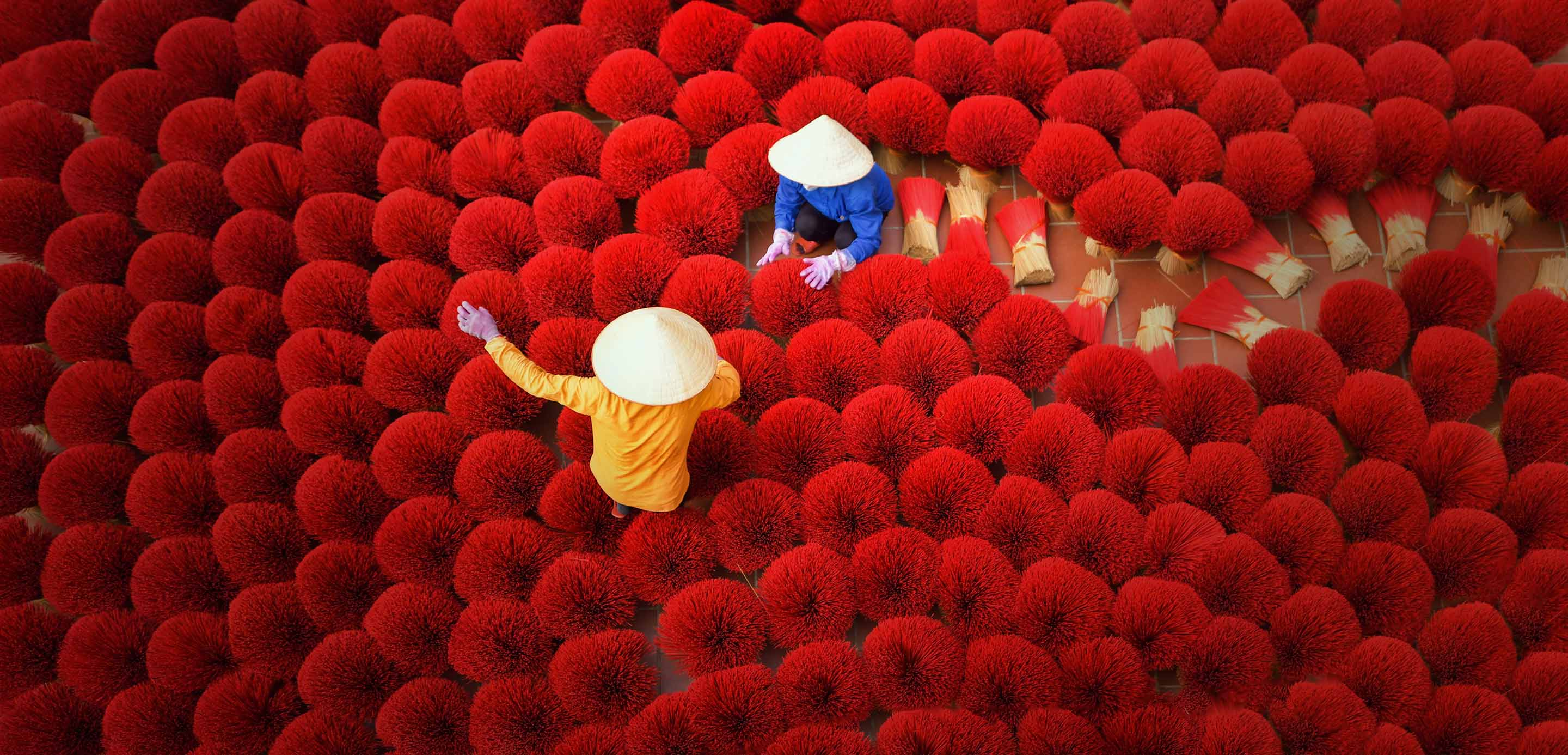 Market & Regulatory Insights

Accessing emerging markets
Asset allocation – institutional investment trends in emerging markets
As emerging market performance diverges from developed peers, senior investors discuss the factors influencing their asset allocation decisions.
Emerging market economies are rebounding from the pandemic challenges of 2020. But from an investment perspective, the asset class is struggling to keep up with the stronger returns on offer in advanced economies. In the first nine months of 2021, the MSCI Emerging Markets Index lost 2.9%1 compared with a healthy 11.7% gain on the MSCI World2.
"We have seen staggering divergences between emerging markets and developed markets this year," said Belinda Boa, Co-CIO, Active Equity and CIO, Fundamental Active Equity Emerging Markets, BlackRock.
Ms. Boa was speaking at the 2021 HSBC Global Emerging Markets Forum as part of an expert panel of investors, who shared their views on asset allocation across the emerging markets universe.
There are a variety of factors behind the differing fortunes of emerging and development markets, she said. At the global policy level, advanced economies were able to deploy enormous levels of monetary and fiscal stimulus that were not available to their less developed peers.
Another issue she raised is the uneven response to the pandemic, with different countries at varying stages of the vaccination rollout, while large parts of Asia have had movement restrictions in place that impeded the economic recovery.
Emerging market tailwinds
There are signs that emerging markets are ready to start closing the gap with developed markets, said Anupam Damani, CFA, Portfolio Manager, Head of Emerging Markets and International Debt Strategy, at Nuveen.
On the pandemic front, the vaccination rollout is now well underway, with locally produced doses and imports increasing supply. "This should really help unlock growth and relieve some of the supply chain bottlenecks that are creating inflationary pressure," she said.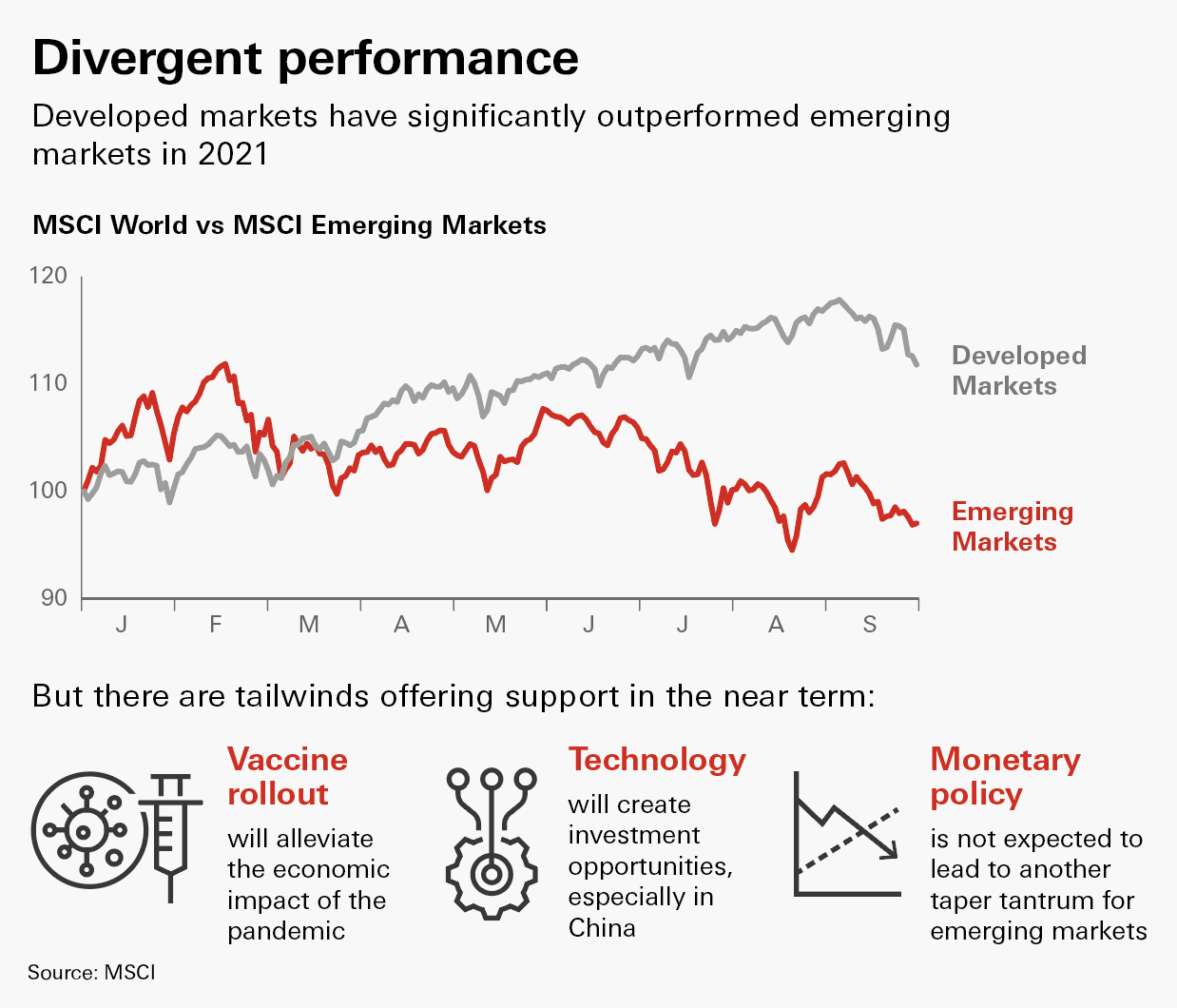 In a discussion of investment opportunities, Ms. Boa from BlackRock highlighted areas of interest in China. The country's research and development drive to develop homegrown technology could create openings to invest – in areas such as semiconductors, the Internet of Things, and 5G.
She also pointed to a growing preference in China towards local brands: "This is something that we have seen over the last 18 months, where the younger generation of consumers is looking more towards domestic brands. It's not just sportswear, but high fashion and skin products."
Understanding liquidity conditions
Investors are paying attention to the US Federal Reserve and how it normalises monetary policy. The last time this happened, it caused the so-called "taper tantrum" in 2013, when surprise news that the US was about to roll back its stimulus resulted in chaotic trading for emerging markets.
But the conditions are very different to the previous round of normalisation, said Ms. Damani from Nuveen. The Federal Reserve has better telegraphed its intentions to remove stimulus than in 2013. Emerging markets are in a much stronger position due to strong external balances, while many central banks have already started to hike rates.
Although the investors on the panel were not expecting another taper tantrum, they are preparing for the effects of changing rates.
"The framework we are going with is that there is going to be a gradual withdrawal of liquidity," said Daniel Shaykevich, Co-Head, Emerging Market & Sovereign Debt, Vanguard Group. The effect will be seen first on assets at the periphery, such as frontier markets that are already underperforming, and eventually at core assets like US investment grade bonds, he said.
"The big question is whether emerging markets are going to be on the periphery. Are they going to be an area that feels the lack of liquidity well before the broad repricing of assets across the board?" he asked.
Sustainable investing
The threat of climate change is very real to emerging market investors. In 2019, China and India were the first and third largest emitters of greenhouse gases, accounting for 27% and 6.6% of the global total respectively3. As developing economies continue on their development path, so too will their power needs. Many of these countries are still reliant on fossil fuels, especially coal.
Sustainability in finance is typically assessed according to environmental, social and governance factors, known collectively as ESG. The panel highlighted that although environmental considerations are relatively new for emerging market investors, governance is a longstanding focus.
"Governance has always been a key theme for emerging market investors," said Ms. Damani. "In combination with the social aspects, it has ramifications for the economy and increasingly the environment."
The challenge for investors in emerging markets relates to the disclosure and quality of sustainability data. Each jurisdiction has its own rules on the kind of information that companies are required to release. Some countries have higher requirements than others, and investors often have to rely on data from external vendors, which can be inconsistent from one provider to another.
"Developed markets have the advantage of data quality," said Blackrock's Ms. Boa. "So it is really up to investors to engage with companies in emerging markets to help them understand how important it is for them to improve their own data and score higher on the main metrics that they are measured against."
The divergence opportunity
Although broad emerging market performance in 2021 has lagged developed markets, it is worth remembering that not all emerging markets are moving in the same direction, with some individual markets still delivering attractive returns. This is especially important for investors looking to generate alpha.
For the rest of the year, fund managers will be paying attention to the vaccine rollout, changes in global liquidity, and sustainability considerations. Those that manage to successfully integrate these factors into their strategy will be in a better position to succeed in the complex yet rewarding world of emerging markets.
To find out more, speak to your HSBC Relationship Manager.
This material does not constitute Investment Research. It has not been prepared by HSBC's Research Department. This material represents the best estimates or approximation as at the time of compilation and is not a recommendation. Investors must make their own determination and investment decisions.
Accessing Emerging Markets
Visit our Accessing Emerging Markets homepage for more insights and how HSBC can support you.