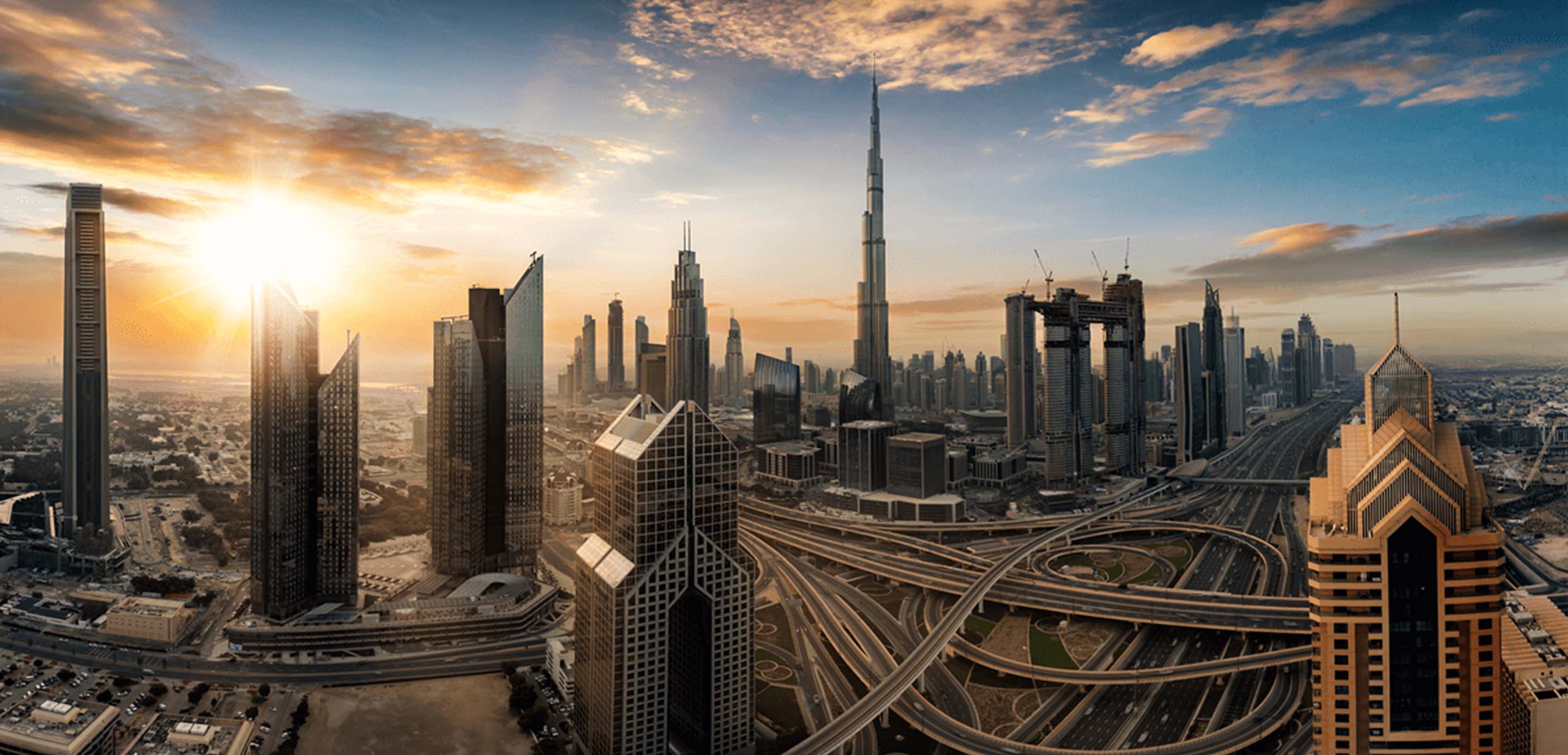 Opening up a world of opportunity for our clients' IPO ambitions in the Middle East
Despite the uncertainty which has been plaguing financial markets throughout the year, investor confidence in the MENAT region remains positive.
From the start of 2022, capital markets experienced a significant decline in the number of IPOs globally, triggered by a variety of macroeconomic factors such as the heightened volatility caused by geopolitical tensions, amongst others.
However, building on momentum from a record year in 2021, the Middle East region stood out, with a flurry of major IPOs. The first quarter of 2022 alone saw 15 MENA IPOs raise USD4 billion1. According to EY data, in the first nine months of 2022, the region witnessed a 550% increase in IPO volume compared to the same period in 20212.
HSBC led a number of transactions in the region, across multiple sectors. The close collaboration between our global product and sector teams allowed us to deliver comprehensive solutions and swift execution to clients. This enabled us to reaffirm position as a leading Equity Capital Markets (ECM) house in the MENAT region, where we are ranked #1 (2022, year to date).
"With strong GDP growth on the back of high energy prices and government initiatives to boost economic and financial diversification, the Middle East market represents an exciting opportunity for domestic and international investors. This was clearly reflected in the deals we have led where we observed unprecedented subscription levels from both regional and international investors, with many international investors new to the region." says Ed Sankey, Global Head of Equity Capital Markets, HSBC.'
Borouge: Joint GloCo on the largest MENA chemicals IPO
The IPO of Borouge was undertaken by Abu Dhabi National Oil Company (ADNOC) and Borealis. Borouge is one of the world's leading providers of innovative and differentiated polyolefin solutions.
HSBC acted as Joint Global Coordinator on the USD2.0 billion (AED7.4 billion) IPO of Borouge on the Abu Dhabi Securities Exchange.
This landmark transaction is the largest IPO in Abu Dhabi, the largest MENA chemicals IPO ever, and the second-largest IPO in EMEA 2022 at time of closing (June 2022).
The transaction represents the fourth IPO from ADNOC and follows the successful IPOs of ADNOC Distribution, ADNOC Drilling and Fertiglobe.
The first Saudi ABO executed with broad distribution
The Public Investment Fund of Saudi Arabia ('PIF') ambitions to propel the national economy on the international investor scene.
HSBC acted as Joint Global Coordinator and Joint Bookrunner to PIF on their c. USD 610 million (c. SAR 2.3 billion) secondary placing of Tadawul via the ABO on the Saudi Exchange.
The transaction is the second largest ABO to ever take place in the Saudi market and the GCC region, the third largest secondary sell-down via an ABO following an IPO in EMEA in the last two years
HSBC demonstrated its ability to execute on and deliver a milestone transaction for an important client under challenging global equity market conditions.
DEWA: The largest IPO in the United Arab Emirates
Dubai Electricity and Water Authority PJSC ('DEWA') is the exclusive electricity and water utility provider in Dubai. The Group generates, transmits, and distributes electricity and potable water to end users throughout Dubai.
HSBC acted as Joint Global Coordinator on the c.USD 6.1 billion IPO of DEWA, an all secondary offering by the Government of Dubai, on the Dubai Financial Market (DFM). HSBC's equities sales team ensured HSBC generated the highest demand.
The IPO, is part of the Government of Dubai's ongoing efforts to further develop Dubai's capital markets and attract international investors. This landmark offering represents the largest-ever IPO in the UAE.
The deal further reinforced HSBC's over 60-year relationship with the Government of Dubai and its over 30-year relationship with DEWA.
Jahez: Landmark technology IPO on Saudi Exchange
Established in 2016, Jahez International Company ('Jahez') is Saudi Arabia's leading online food delivery platform that utilises disruptive technology to connect customers, restaurants and drivers across Saudi Arabia.
HSBC acted as Sole Financial Adviser, Sole Global Coordinator, Lead Bookrunner, Lead Manager and Stabilising Manager on the USD 474.4 million (SAR 1.8 billion) IPO of Jahez for Information Systems Technology
The IPO sets a precedent for Saudi early-stage companies to access the capital markets for financing. It also provides an opportunity for the broader investor base to invest in the growth of such companies
HSBC played a critical role in constructing a structure to the Capital Market Authority (CMA) of Saudi Arabia to enable a cornerstone investment to be made.
Reflecting on 2022, it has been particularly interesting to witness Saudi Arabia making a significant stride on the regional IPO activity, with a great variety of opportunities across multiple industry sectors. This aligns well with their "Vision 2030", the governmental program aiming at developing a diverse non-oil economy, says Mohammed Fannouch, Head of Investment Banking & Advisory at HSBC Saudi Arabia.
In the UAE, where HSBC has led a number of IPOs in 2021 and 2022, we are seeing an equally interesting market momentum, with a trend of privatisations driving a surge in IPOs. International banks like HSBC with in-depth expertise of the market's intricacies can play a strategic part with advisory roles combined with holistic services, says Samer Deghaili, Co-Head, Capital Financing & Investment Banking Coverage, MENAT at HSBC.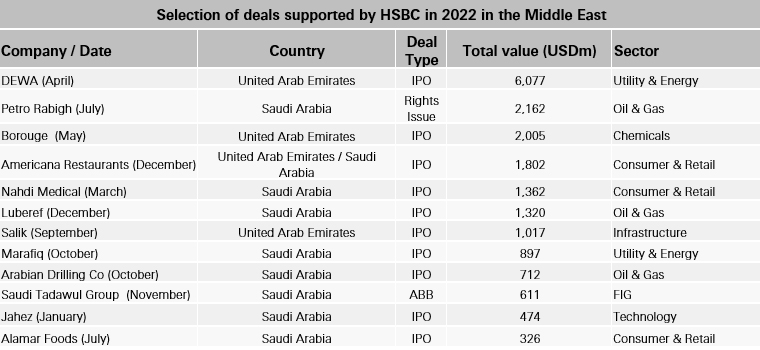 "Throughout 2022, HSBC has demonstrated our expertise in executing large scale transactions in a global coordinator capacity leading 8 transactions in the GCC region and raising USD 14 billion equity for our clients. Standout transactions where we acted as global co-ordinator included the largest IPO in Dubai (DEWA), in Abu Dhabi (Borouge) and in Saudi Arabia (Al Nahdi), with those three IPOs alone raising in excess of USD 9 billion." says Chris Laing, Managing Director, Head of Emerging Markets Equity Capital Markets at HSBC.
"The breadth of deals across multiple sectors reflects the strength of our local as well as global ECM and sector teams in leading the deal execution and market engagement for our clients. Our global distribution platform also means we have been able to facilitate the international investor community which is now highly active in the region's ECM flow. HSBC's position as number one bank for EMEA IPOs means we have insight into global investor views and participation which is second to none in this time zone." says Andrew Robinson, Managing Director, Head of EMEA Equity Capital Markets at HSBC.
Today we finance a number of industries that significantly contribute to greenhouse gas emissions. We have a strategy to help our customers to reduce their emissions and to reduce our own. Read our climate policy here.
Our clients' IPO ambitions in the Middle East