HSBC EM Sentiment Survey.
Investor confidence in emerging markets has improved markedly, with bulls outnumbering bears for the first time since July 2021, according to the latest HSBC EM Sentiment Survey.
The proportion of investors who feel bullish about the outlook for EM for the next three months is 29%, up from 15% in our September poll. Just 18% feel bearish, down from 41%. It marks the first time the net sentiment score has entered positive territory in more than a year.
In line with rising confidence, the investor risk appetite score has rebounded to 6.11 from 5.26, measured on a scale where "0" is "no risk" and "10" is "highest risk in EM". More investors are now looking to put cash to work, with only 8% planning to increase their cash levels over the next three months – the lowest reading since our series of polls began in 2020.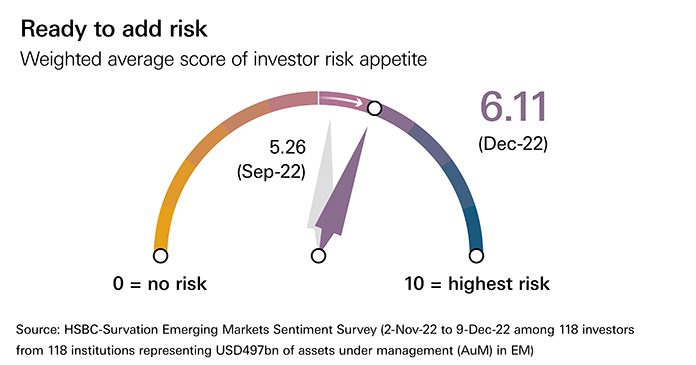 The latest survey was conducted between 2 November 2022 and 9 December 2022 among 118 investors from 118 institutions representing USD497bn of EM assets under management. The fieldwork coincided with a rebound in global financial markets amid easing inflation concerns, expectations of a slowdown in monetary tightening by major central banks, and news about the reopening in China and measures to support its property sector.
Investors remain concerned about a recession and the impact of monetary tightening by the US Federal Reserve and other major central banks (39%). The number expecting a recession over the next two years has moderated marginally to 90% for Europe (94% in the previous survey) and to 70% for the US (84% previously). Exactly half of the investors surveyed now foresee a global recession over the next two years.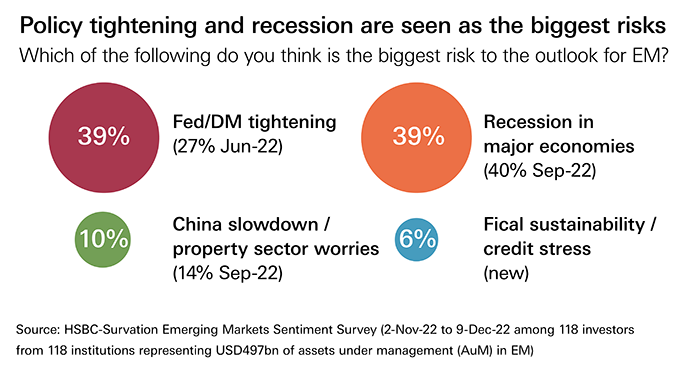 At the same time, survey respondents also see a better growth-inflation outlook for EM. Investors expecting an acceleration in EM activity over the next 12 months now outnumber those who expect a deceleration. Perceptions of mainland China's outlook have improved, with 37% of respondents saying it is among the EM economies where they expect the biggest acceleration in growth. In a further notable shift, some 62% think EM inflation is likely to fall over the next 12 months, outnumbering the 22% who expect it to rise.
But what do these changes in sentiment mean for investors' strategies?
Strategy
Latin America stands out as the most preferred region overall, with a positive net sentiment score across all asset classes. It is closely followed by Asia, where investors seem to prefer FX and equities over fixed income. Central and Eastern Europe remains the only region with net negative sentiment across all asset classes, albeit with a mild improvement since the September survey.
In terms of individual financial asset classes, the share of respondents who expect EM FX to depreciate has more than halved from the previous survey, while nearly half of investors are looking for EM currencies to stay broadly the same. In EM fixed income, the preference remains for hard currency debt.
Investors seem to be embracing EM equities once again, with 54% now expecting them to be higher in the next three months. Similarly, 54% expect EM equities to outperform developed market (DM) stocks over the same period, compared with just 21% in our September survey.
Finally, environmental, social and governance (ESG) engagement seems to have retreated somewhat as 16% of the investors said they are running an ESG portfolio directly versus 23% in September. This could be in part explained by insight from the recent HSBC ESG Sentiment Survey published by our Global Research colleagues, which found that "almost three-fifths of the respondents believe that rising costs will be a hindrance to sustainability strategies".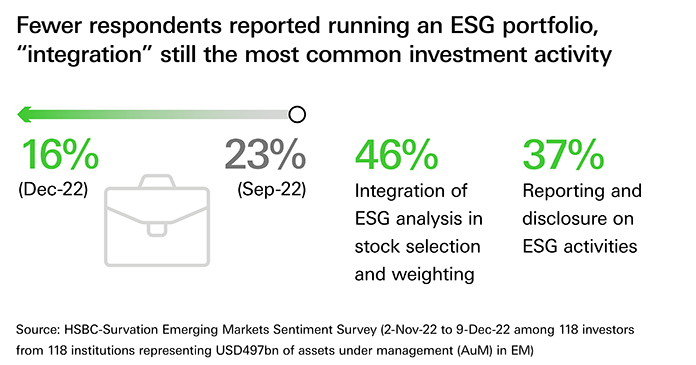 First published 13 December 2022.
Would you like to find out more? Click here* to read the full EM Sentiment Survey (you must be a subscriber to HSBC Global Research).
To find out more about HSBC Global Research or to become a subscriber get in touch at askresearch@hsbc.com.
* Please note that by clicking on this link you are leaving the HSBC Global Banking and Markets website, therefore please be aware that the external site policies will differ from our website terms and conditions and privacy policy. The next site will open in a new browser window or tab.
Global Research
HSBC Global Research provides information, insights and thought-provoking ideas.