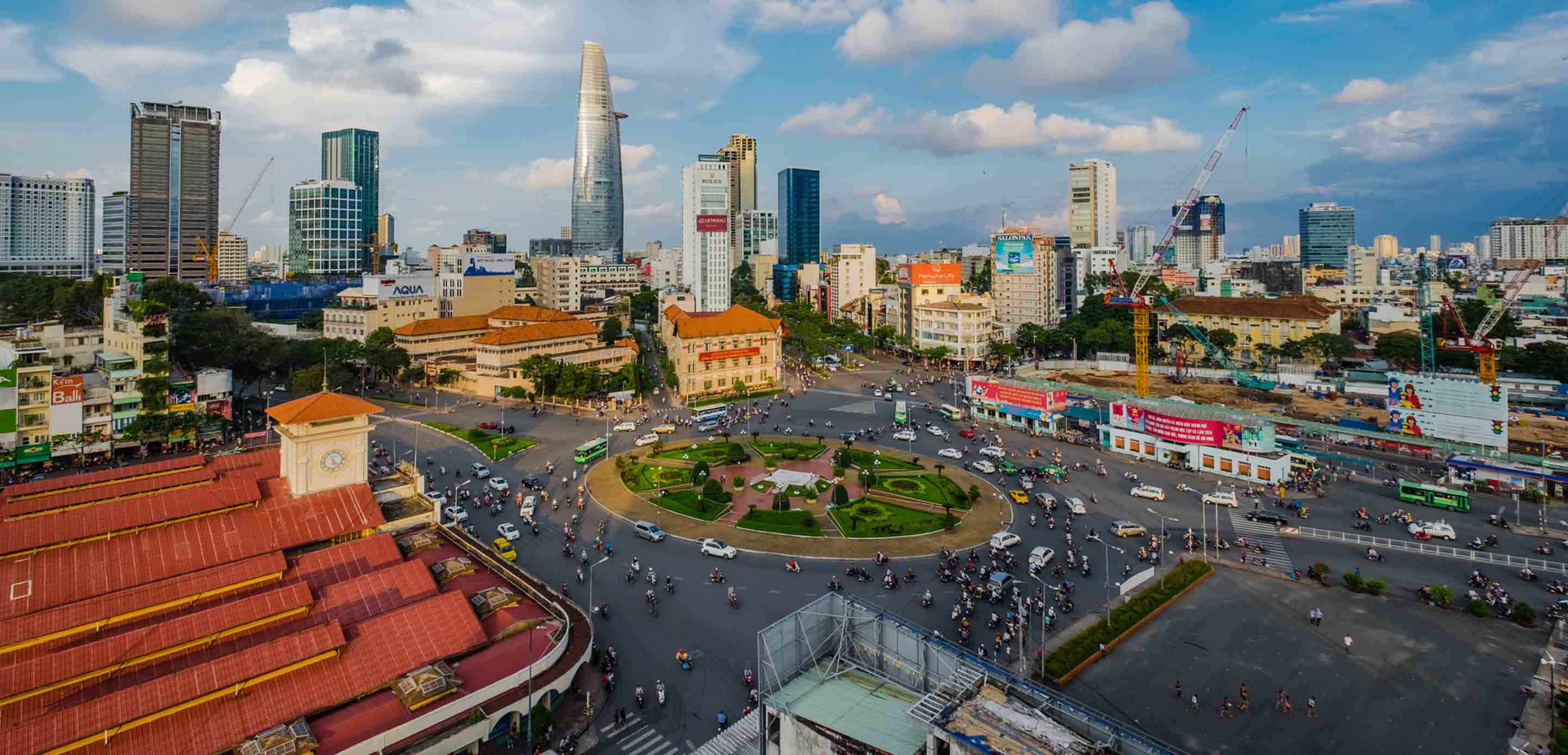 Vietnam - Southeast Asia's rising star
As Vietnam comes out of lockdown, digital and sustainable considerations are developing alongside traditional growth drivers, such as manufacturing.
In the economically dynamic Southeast Asian region, Vietnam stands out as a development success story. Over the last ten years, the country has recorded an average annual growth rate of 6%, which compares favourably with other countries in Southeast Asia1. In 2020, Vietnam was widely considered to have performed extremely well in handling the pandemic, with only 35 deaths out of a population of 97 million by the end of last year2.
Economic rebound
The story changed in the summer when the Delta variant of COVID-19 broke through the defences. The number of cases rose sharply and the country went into one of the strictest lockdowns in the world, resulting in an immediate economic impact. The economy shrank by 6.2% year-on-year in the third quarter3 and retail sales in July plunged by 19.8%4.
Vietnam is now easing restrictions on movement, and it is becoming clear that the long-term fundamentals that promoted development in recent years have not been damaged by the pandemic.
"I continue to be very positive on the Vietnamese economy. I feel that its resilience is second to none," said Tim Evans, CEO of HSBC Vietnam, who was speaking at HSBC's Global Emerging Markets Forum.
He highlighted that Vietnam has consistent policy and a stable currency, while inflation is under control. There are also cost benefits for foreign companies operating in the country.
Vietnam shares a number of dynamic trends with other developing economies. Urbanisation is one example, as people move from the countryside to find new urban jobs in factories or the service sector. High levels of investment are required to ensure that city infrastructure keeps up with the demands of new residents. For the industrial sector, infrastructure upgrades can support future development. Improved ports, railways, and airports will increase connectivity with international trade routes.
The local stock market is also doing well. The benchmark Ho Chi Minh Stock Index has nearly doubled since March last year5. There are expectations that Vietnam's market will be reclassified from frontier to emerging market status. Inclusion in the larger emerging markets indices would likely increase the level of foreign participation in the local exchange.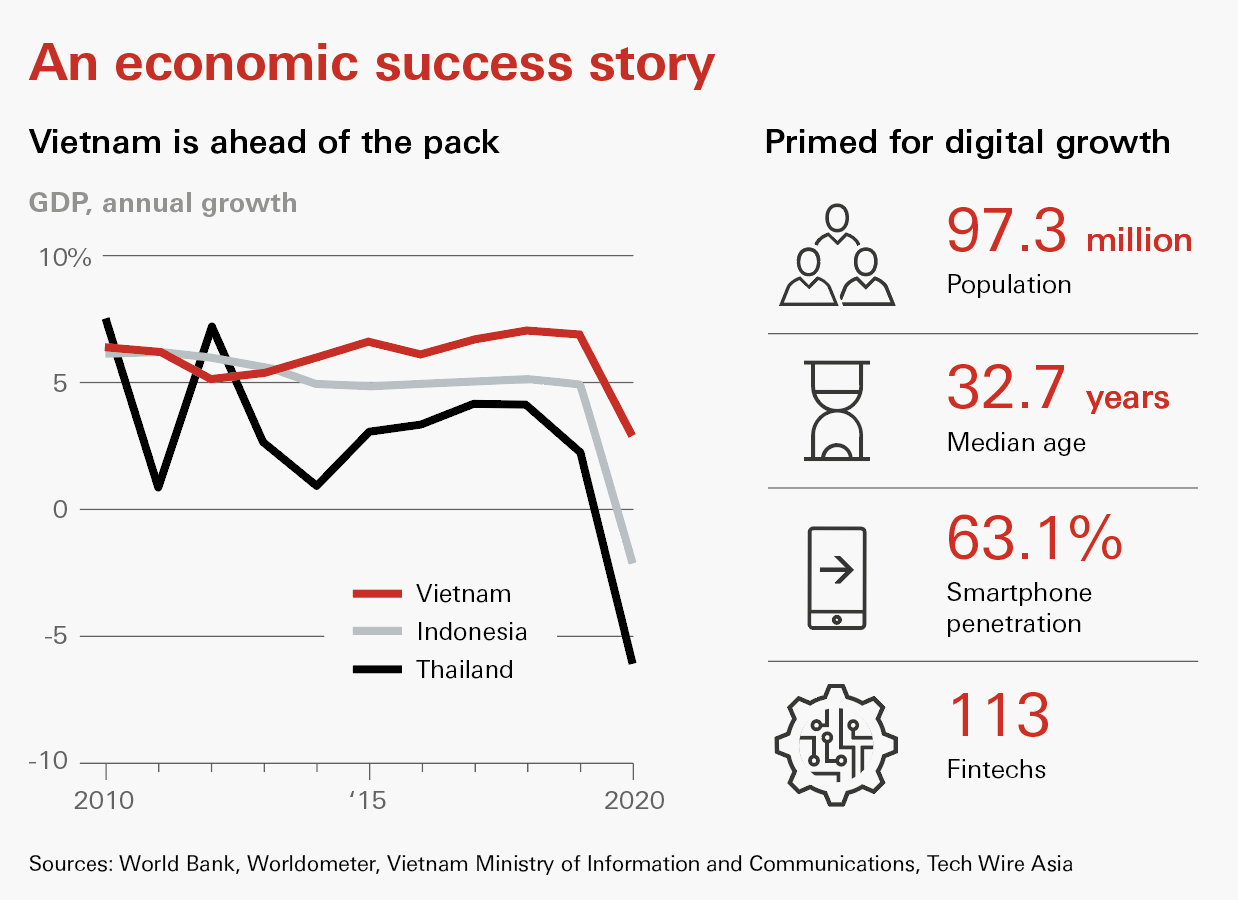 Fintech opportunities
The Vietnamese economy is commonly associated with manufacturing that is affordable compared to other countries. But beyond these traditional growth drivers, there is a vibrant local technology ecosystem.
"Vietnam offers real potential in the Fintech space," said Mr. Evans. "You have low levels of financial inclusion with high smartphone penetration. The population is young and tech savvy."
There are 113 Fintechs operating in Vietnam, compared with just 44 in 20176. Around two thirds of the start-ups in this space specialise in digital wallets and payment services. The pandemic has accelerated adoption rates, as the lockdown made people rely more on online financial services rather than bricks and mortar banks. It is also putting pressure on traditional lenders.
"The big banks, and I include ourselves in this, are starting to revamp themselves by investing in mobile apps and introducing e-wallets into the market," he said.
Sustainability drive
Sustainable finance is another area where the pandemic has increased momentum. There is growing recognition in Vietnam that the quality of future growth will matter just as much as the quantity. The challenges are especially evident in the power sector; as rapid development requires the supply of electricity to grow at the same pace.
Renewable alternatives to fossils fuels are viable: "The country is in an ideal spot to develop wind power," said Mr. Evans. "It has a long coastline and strong winds, making wind power a real option."
Vietnam's corporates are starting to integrate green frameworks into their strategies. An example of this trend is when one of the country's largest conglomerates raised $500 million in an April international bond sale. Arranged by HSBC, the issuance was the world's first-ever exchangeable sustainable bond, as well as a sign that the national champions support the green agenda.
The push towards sustainability has official backing. The State Bank of Vietnam is encouraging local banks to develop ESG-linked lending policies, though the industry standards are still being made7. For financial markets, regulators now require listed companies to disclose data detailing their environmental impact8.
Looking to the future
With Vietnam emerging from lockdown, attention can return to the long-term growth drivers that make the market attractive to international capital. Not only will manufacturing bounce back, new capabilities, such as technology and sustainability, will contribute to future development. Taken together, it is hard not to be optimistic on the country's development.
To find out more, speak to your HSBC Relationship Manager.
Accessing Emerging Markets
Visit our Accessing Emerging Markets homepage for more insights and how HSBC can support you.