Swap Connect - Enhancing your access to China's financial markets
Designed to give investors access to the China onshore interest rate swap ("IRS") market, Swap Connect is the latest Connect scheme linking Hong Kong and mainland China's financial markets.
Swap Connect
Leveraging Hong Kong's robust financial market infrastructure for investors to trade onshore RMB interest rate swaps

Northbound route for international investors to access mainland China to be launched first

International investors benefit from established central clearing model mitigating counterparty risk
Efficient hedging tool
Onshore interest rate swaps enable investors to manage risks more effectively.
Historical record shows onshore IRS differentiated from offshore products for the lower volatility and better correlation with onshore China bond yields.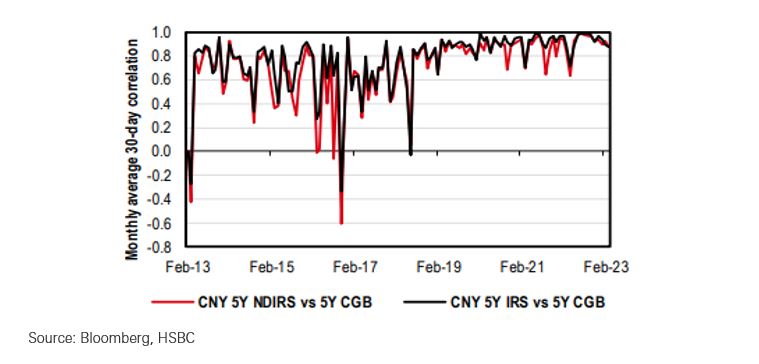 CIBM Direct or Bond Connect investors

7-day Repo (FR0007)
3-month SHIBOR (Shibor_3M)
Overnight SHIBOR (Shibor_O/N)

Market-wide trading quota of RMB 20bn, on net basis
How does Swap Connect work?

Submit application to Bond Connect Company Limited (BCCL)

Get onboarded with a designated market maker and clearing broker
Get onboarded with international trading platforms for Swap Connect (Tradeweb/Bloomberg)
Trading and clearing process
Deep expertise in Swap Connect
We have an in-depth knowledge through working closely with HKEX, regulators and BCCL from the inception of the Swap Connect to its design and implementation.

Single point fortrading and clearing
We are both a designated market maker and a clearing broker for Swap Connect, offering a full-suite solution and end-to-end support from pre-trade to post-trade to help you trade confidently.
Supporting you at every stage of your journey
Our comprehensive solutions can help you access China's onshore derivatives markets, providing full support across the transaction lifecycle from pre-trade to execution and central clearing.
Your one-stop solution for Swap Connect
Completed the first onshore IRS Swap trade with an offshore China Interbank Bond Market investor in the market under National Association of Financial Market Institutional Investors (NAFMII)
Top OTC Clear Member – HKEX Awards 2022
Start your investment journey with us
Speak to your HSBC representative for more details about Swap Connect and how we can support you in this scheme.
Download our quick guide here