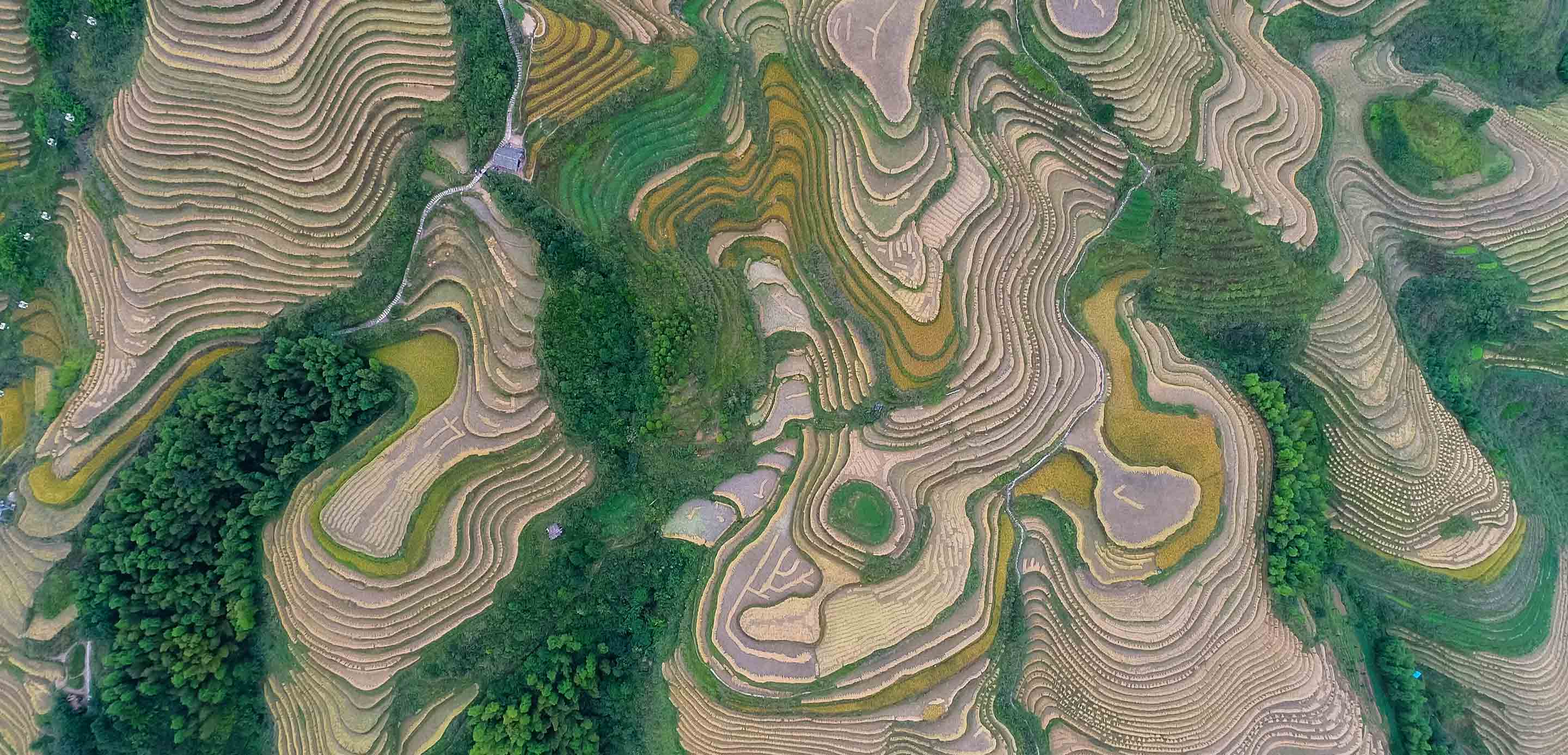 COP26 – Time is running out to save the planet
As world leaders gathered in Scotland for COP26, the role of financial institutions in driving the green agenda is coming to the fore.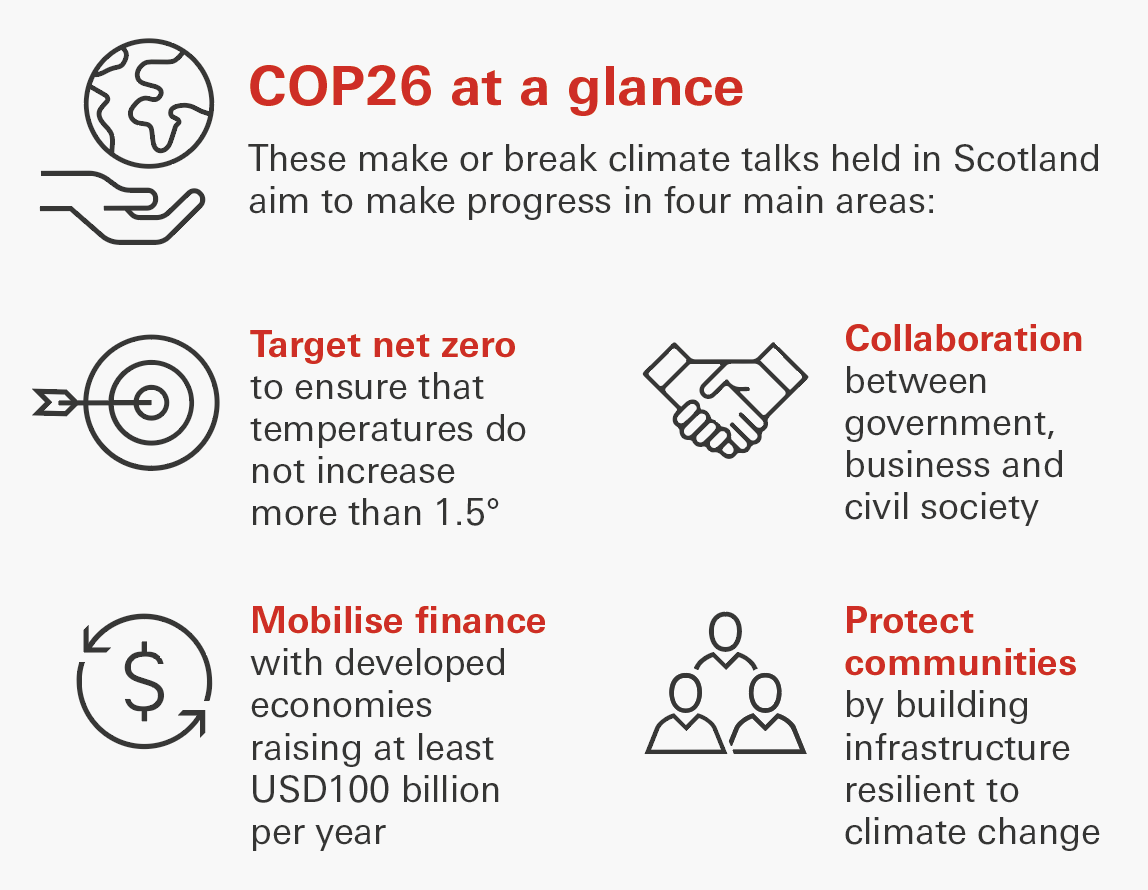 COP26 was widely seen as one of the last chances for the world to bring climate change under control. At the end of October, world leaders and other participants gathered in Scotland to negotiate national plans that aim to keep global warming below 1.5 degrees.
"COP26 was the most important climate negotiations since the Paris Agreement was adopted in 2015. having significant implications for the economy, for business, and for investors," said Wai-Shin Chan, Head, Climate Change Centre of Excellence, and Global Head of ESG Research, HSBC, who was speaking at 2021 HSBC's Global Emerging Markets Forum.
Risk analysis
The best way to understand the significance of COP26 is to analyse it in terms of climate risks. Firstly, there are physical risks that result from climate change. These include extreme weather, droughts, and forest fires. The other category of risks are transition risks that occur as the economy becomes more sustainable. For example, energy-intensive companies will likely be subject to stricter regulation.
"COP26 has the potential to accelerate transition risks," said Leila Kamdem, Head of Climate Risk, HSBC. "The earlier we start working towards net zero, the greater chance the transition risks will be outweighed by a reduction in the physical risks."
But there is another risk: failing to take part in decarbonisation of our economies, which she described as the greatest commercial opportunity of our time.
Supporting COP26 and beyond
There are a wide range of initiatives underway to support COP26. For the financial industry, there is the Financial Services Taskforce (FSTF) – a sub-group of the Sustainable Markets Initiative that looks at how banks can collaborate effectively to push forward the climate agenda. Chaired by Noel Quinn, Group Chief Executive Officer of HSBC, the taskforce explores how banks can mobilise capital into sustainable projects, while developing methodology and frameworks.
"The taskforce brings together 11 banks to set out the processes that need to be in place to translate our net-zero ambitions into operational reality," said Zoë Knight, Group Head, Centre of Sustainable Finance, HSBC.
A related scheme is The Glasgow Financial Alliance for Net Zero (GFANZ), which convenes 160 companies responsible for more than USD70 trillion worth of assets from across the financial system to accelerate the net zero transition1. HSBC joined the alliance in April 2021.
Sustainable investing
With policymakers and financial institutions firmly behind the drive to sustainability, there will also be a shift in investor behaviour, as environmental considerations become more deeply integrated into the investment decision-making process.
At the start, the transition to net zero might make many investors feel uncomfortable. It will after all, be a fundamental shift in how our economies operate, creating high levels of uncertainty. But disruptive change should be seen as creating a rare opening for investors, said Stuart Kirk, Global Head of Responsible Investments, HSBC Global Asset Management.
"We are very optimistic about what transition means for investors. Humans are incredibly ingenious at adapting and gaining prosperity from change," he said. "There will be companies we've never heard of today growing into trillion-dollar businesses, and that creates a very real opportunity."
In practice, there needs to be a better understanding of how institutional investors can realise sustainability. Mr. Kirk mentioned the difference between primary and secondary market activities. Although providing finance to companies is an important part of what a fund does, most of its activity involves trading securities in the secondary market. A counterintuitive consequence of this is a fund could commit to not funding fossil fuel companies, yet still hold coal miners in its portfolio.
This highlights the importance of engagement. Total divestment from coal miners would push the share price down, increasing the chance that the company goes private. If that happens, said Mr. Kirk, it will become much harder for shareholders to influence companies that operate in polluting sectors.
Realising net zero
What concrete steps can we expect following COP26 that will help financial institutions become more sustainable?
One area is carbon trading, which has the potential to help reduce emissions, while transferring capital from developed economies to emerging markets. It is a highly technical field, and its framework is still not complete.
And this leads to a broader topic that needs to be addressed – data. A constant challenge for investors interested in sustainability is availability of data, quality of information, and differing ways it can be used for classification. In emerging markets, environmental disclosures are especially patchy.
"It would certainly make our lives easier if there was standardised information from companies on their greenhouse gases for example," said Ms. Kamdem.
The last chance
Immediate challenges related to carbon trading and information disclosure, when combined with the increasingly clear threat of climate change, make it easy to feel resigned about the environment's fate. But conversations during COP26 are a sign that the world is taking threats to the environment more seriously than ever before.
To find out more, speak to your HSBC Relationship Manager.
Accessing Emerging Markets
Visit our Accessing Emerging Markets homepage for more insights and how HSBC can support you.